Complete 3D full body scanning solution
The Custom Shop is a revolutionary new way to build your wardrobe. Using our digital measuring technologies, we gather 300,000 data points to create your 3D body model. These measurements (along with your fit preferences) are fed into our proprietary Digital Bespoke algorithms to create clothing from shirts and jeans to suits and blazers. We are the first GCC based men's tailors pioneering state of the art scanning technology. Rather than rely on the traditional time consuming method of multiple measurement by hand, we use a fully automated contact free 3D Body Scanner.
Not only is everything custom-fitted to you, but you help in the design process. Choose the shirt collar and cuff you like. You like that blue suit but want peak lapels instead of notch? No problem. Add a pop stitch color. Make it yours! We'll even put your name in it!
See something you like, but need a second opinion? Don't worry—we have excellent stylists on hand to help you create your style.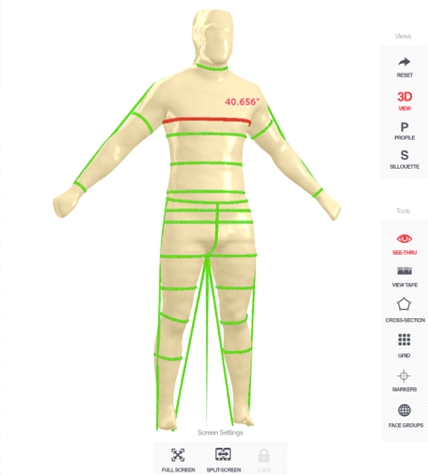 Our Body Scanner is 76% more precise
Our unique 3D scanning technology is the world's most accurate method of measurement.
The entire process takes less than 3 minutes–less time than it takes to find and try on one shirt. Our technology is not only quicker and less intrusive than the traditional method of measuring, it is far more accurate allowing us to cut down on unnecessary repeated fittings required by other tailors. Only requiring a single consultation, the Tailor Made service offers you a considerable time saving and allows us a delivery time of just 2 to 4 weeks which is far shorter than any other comparable tailor.
Want some alterations done to your finished garments? The Custom Shop provides alterations at the first fitting. Once we lock in your fit preferences of the first item, we replicate that pattern for all future patterns—so you don't ever have to worry about it again. We also offer repeat scans if your body changes to ensure that each article is a perfect fit.