The Custom Shop is the one-stop shop for your wardrobe needs. We cater to clients needing bespoke clothing, design consultation, accessories and all kinds of alterations. Our client seeks good quality clothing incorporated with value. Our various pricing segments allow our clients to make decisions based on their needs and wants. Alongside we also want to render a good shopping experience for our clients, which is why we have our fashionably trained bespoke stylists to help you make these important decisions when you visit us.
The Custom Shop brand is synonymous with people who love fashion and want to translate it into their daily clothing through customization. Customization helps them to bring out their personality in many different ways. This is done through the color of inner linings you pick, the button thread you choose, the thread of the button-holes on your shirt or suit jacket, or the width of the jacket lapel which flatters your body type.
We don't believe in settling, and neither should you. We traveled the world searching for luxury fabrics, tasteful designs, and expert craftsmanship while keeping our prices affordable.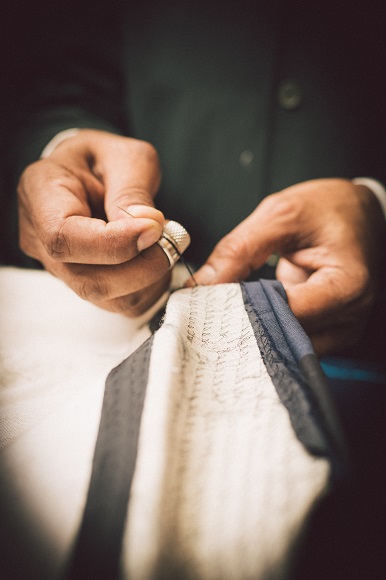 The clothes make the man and the right clothes can make a man look and feel extraordinary. Why buy ordinary clothes made for a mannequin when you can have something extraordinary custom created just for you?
We set the standard in attainable men's custom clothing through a unique marriage of technology and classical tailoring methods. If you've never worn clothing that was made just for you, you're not alone.  Most of our customers have never bought custom before, and are shocked at how good they feel in higher-quality, perfect-fitting clothes with the best Italian and English fabrics.
Customer measurements are digitized and a 3D image of their precise measurements created to ensure a perfect fit every time. After an order is placed, our highly skilled tailors use lasers to cut each piece straight from the cloth in true bespoke fashion. The three to four week process ensures precision and consistency and allows each handmade piece to be precisely fitted for each individual customer.
With our flagship in Dubai and international offices in New York, The Custom Shop achieves global reach. The multi-city approach allows The Custom Shop serve customers anywhere, anytime and ensure the same level of quality. Responding to customers' requests, The Custom Shop has also launched an exclusive, invitation only personal styling service, available in its showroom in Dubai. The showroom features a 3D Body Scan Technology first time to be implemented by a Bespoke Tailor Shop in GCC.
"We founded The Custom Shop to meet the needs of guys like ourselves: aspirational, seeking an upgrade in their personal wardrobe, a more modern, sleeker look but at an attainable price point," explains co-founder Zaki Ali.
The Custom Shop instill pride in our customers by giving them the freedom to create something unique, customized and impeccably made.
To all of you, from all of us at The Custom Shop – Thank you and Happy Purchase!
This website is solely owned and managed by THE CUSTOM SHOP BESPOKE TAILORS.